Where To Buy a Moissanite Engagement Ring in NZ
May 3, 2022 • 7 min read • #moissanite ring
---
Buying a moissanite engagement ring can be a daunting task, especially with the lack of information and a strong preference for retailers to push you towards a diamond engagement ring.
But buying a cheap diamond ring means that you will compromise on size or quality and it shows. You may end up with a smaller diamond, or a diamond that doesn't shine.
This isn't the case with moissanite. If you aren't aware, moissanite is a lab grown gemstone that looks very similar to a diamond. It has similar properties. But is significantly cheaper (up to 70%). You can read more about moissanites here.
A moissanite engagement ring allows you to demand quality and design all at a price that you can afford. And while lab diamonds offer a sustainable and more affordable option, they still may not tickle your fancy — especially if your partner is looking for something a little bit different and a lot more shine.
Read on to learn where you can buy a moissanite engagement ring in New Zealand.
Four Words takes a lot of the stress away from you when designing a moissanite engagement ring. They start off with a phone or video call to get an understanding of what you are looking for. You can send them images of designs that inspire you. Their team will then sketch a ring for you to then approve. The great thing about this stage is that it is very personal (you actually deal with a person based in New Zealand) and the design stage is completely free.
Four Words will also ensure to pick the best moissanites that the eye can see, and their jewellers also cut the gemstone for maximum sparkle. One of the mistakes that other stores can make is that their jewellers cut moissanites in the same way as diamonds. But because they have different chemical compositions and internal structures, cutting moissanite in the same way as a diamond actually reduces its sparkle. This will make your moissanite engagement ring look cheap.
Four Words is also proactive when it comes to sustainability. They are climate positive. This means that for every purchase, they are offsetting more carbon than it costs to make your moissanite engagement ring.
Positives:
You can design your moissanite engagement ring exactly the way you like.
The design process is free.
The moissanite engagement ring is completely climate positive.
Have specialist jewellers for moissanite and moissanite engagement rings.
Negatives:
Because Four Words custom creates your ring after the design phase, it can take up to four weeks for your moissanite engagement ring to arrive.
Jeulia is actually located in Hong Kong but ships to New Zealand. They make moissanite rings and have a wide range to choose from. Interestingly, Jeulia does not specialise in moissanite engagement rings. They also do other event jewellery such as anniversaries, graduations and birthdays. For this reason, finding a moissanite engagement ring that is designed accordingly may be a bit of a struggle. Jeulia also does not do bespoke design so you can only choose from what is available — quite like a typical retailer. Jeulia doesn't provide you transparency on the quality of your gemstone so you also need to put a lot of trust in the company. The prices are also very low. This may be a great option if you are looking for necklaces or earrings in moissanites and plan on wearing it as fashion jewellery.
Positives:
Very cheap
30-day return and exchange policy
Great for fashion-wear
Negatives:
Not based in New Zealand
Limited range
No ability to customise rings
No transparency on the quality of moissanites.
If you are a jeweller or craftsperson yourself, you may want to buy loose moissanites and handmake your ring for your partner. Moissanite NZ is the place to go to. They are an independently owned moissanite distributor in New Zealand and have been around since 1999.
Positives:
Can sell you loose moissanites.
Great avenue if you want to build your own jewellery.
Negatives:
Don't make jewellery themselves
Don't provide a bespoke done-for-you service.
NZ Diamonds sell moissanite engagement rings where you can customise your ring on their site. They have hundreds of options and you can pick and choose what you want. If you know exactly what you want, this is a great way to move quickly. You also need to pick the exact stone that you want. This includes grading, colour and cut. If you don't know about these, you may end up with something that is not what you expect. Also, if you don't know much about cuts, colours and the designs, it can seem like a bit of a maze to find what you are looking for. And if you want something a bit more bespoke, it may be a lot more difficult to create.
Positives:
Wide range of options.
Great if you know a lot about precious stones and precious metals already.
Takes between five days (if they have the stock) to three weeks for the ring to arrive.
Negatives:
Not bespoke design.
No sustainability statement
Storm Baker is based in Christchurch and has moissanite engagement rings. They can also create bespoke moissanite engagement rings by going through a design consultation — similar to Four Words. It is worth noting that Storm Baker is a jeweller that does all types of stones so they do have a wide set of skills.
It is unclear from their website the quality of moissanites that they use and how they are cut — if they are cut like diamonds or if they have specialist jewellers that cut in accordance to maximise brilliance.
Their standard band is 10K gold which is also not the best quality for an engagement ring. Typically, it is better to go for 18K gold but this will cost around $700 extra than what you can expect.
Working with Storm Baker may be a good option if you have somewhat of an idea on jewellery and know what to look for when making a bespoke piece.
Positives:
You can design your ring in exactly the way you like
Works with other forms of jewellery
Negatives:
Their website is hard to navigate around.
No sustainability statement.
Unknowns:
Quality of moissanites that they use.
Their moissanite cutting process.
Delivery times.
Design philosophy
Where to from here?
The number of businesses that sell moissanites in New Zealand is incredibly limited but you can expect a high level of service from the likes of Four Words. It may also be worth trying out Storm Baker or NZ Diamonds if you know what you are doing. Ensure that you know about how moissanites are graded.
Note, lab grown diamonds are an alternative. So it may be worth asking whoever you contact about the differences to help decide what is best for you.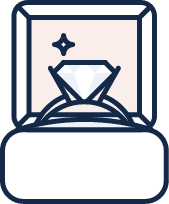 Ready to take the leap?
If you have any questions or are ready to start the process book a time or send us an email
Unsure? Read our guide