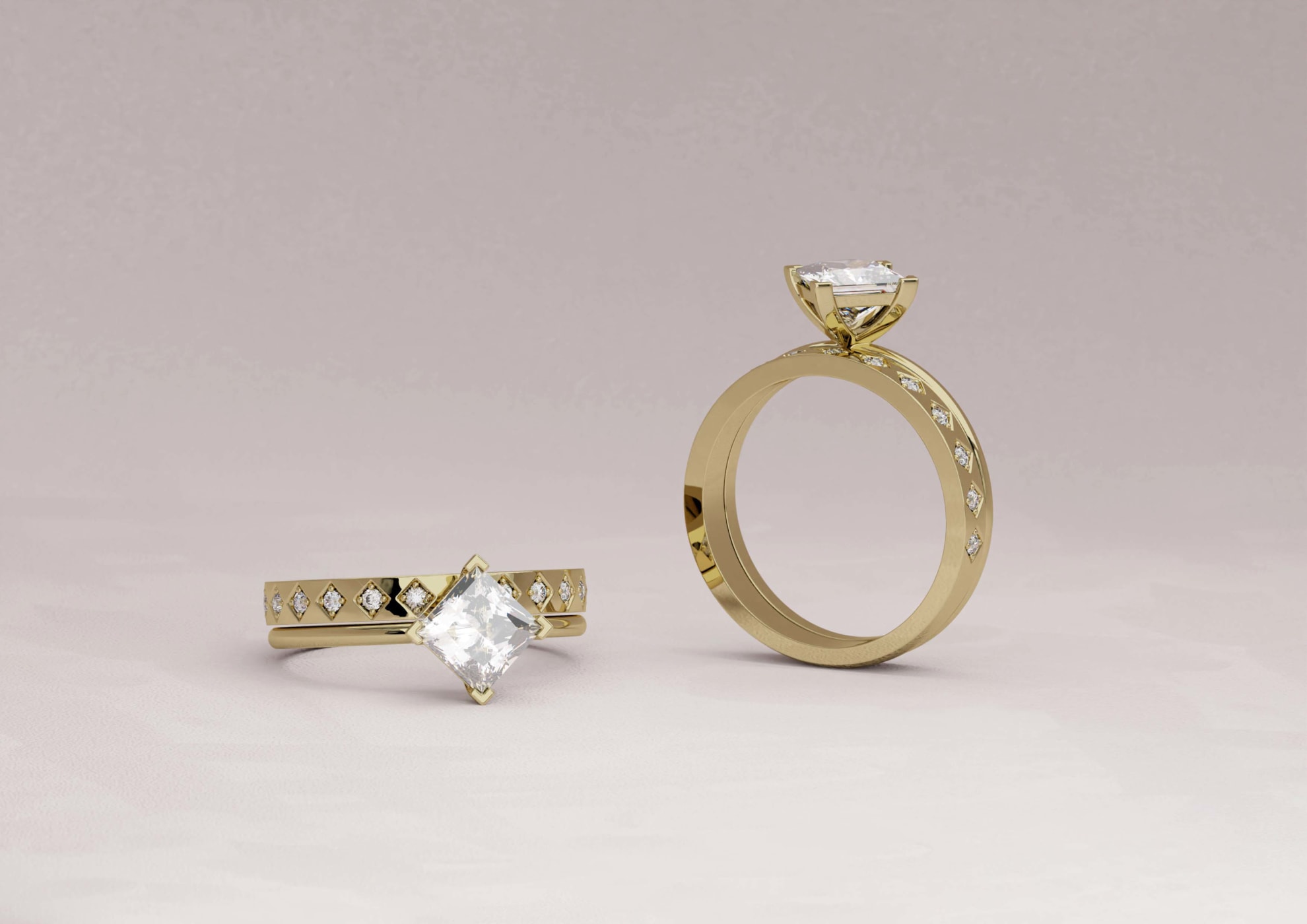 Custom princess engagement ring in NZ
Work 1 to 1 with our designers to bring your vision to life. Using the highest quality, princess cut Diamonds, Gemstones and Moissanite, that dream piece is now within reach
5 of 5 Stars Google Reviews (140+)
A personalised buying experience from start to finish
Stressed about making the wrong choice?
Whether you know exactly what you want or don't know where to start. Our step-by-step process will help you create that dream ring that will be treasured for a lifetime.
From finding the right style to choosing the best materials, you'll work with your own personal design consultant who will be there to guide you through the whole process.
GET IN TOUCH
Meet us virtually or in person to see over 50 different styles and try on different stone shapes & sizes.
Get a bigger stone no matter your budget
Using lab grown diamonds & gemstones means you get can a larger stone, use more stones or both without compromising quality or budget.
Lab grown stones bring that dream piece within reach – while being physically, chemically and optically the same as their natural counterparts (down to the atom).
Get a bigger and higher quality stone – no matter your budget.
Also 0% financing available to help you make the perfect choice.
Get in touch
How it works
Reviews
Outstanding service. The process was very easy. Four Words was great to deal with, and very helpful. Very happy with the end product too. All round a great experience.
Nigel Latta
100% ethical, climate positive and conflict-free jewellery
All our diamonds & gemstones are ethically sourced and conflict-free.
Using primarily lab-grown stones means our custom jewellery has a 7x less negative environmental impact than if using mined stones.
Any impact we can't minimise, we offset by over 500% with our partners at CarbonClick.
Feel good knowing your piece is better for the planet, conflict-free & ethically sourced.
GET IN TOUCH
Reviews
Four Words was very communicative and clear around their overall philosophy, approach to sourcing, and the steps they take to minimise environmental impact.
Joshua Soong
Modern designs, crafted for a lifetime — guaranteed
Detailed designs, luxury materials and beautiful craftmanship, all our jewellery comes with with a lifetime manufacturing guarantee.
We also offer hassle-free refunds within 14 days on our collection rings if you are not 100% happy with your final piece.
Quality we stand behind. Quality you can rely on.
Reviews
The craftsmanship and attention to detail are remarkable, resulting in a stunning ring that exceeded my expectations. The personalised service provided by Vinny and Mohammed made the entire process enjoyable and stress-free.
Clay Reeve
Not ready?

Stay updated with the Four Words newsletter
We'll send practical advice, design guides and our latest creations.