Shipping & Returns
Shipping & Returns
Our 30-day guarantee
If you aren't satisfied for any reason, simply return it within 30 days for an exchange or full refund.
---
Shipping
It takes 6—8 weeks to craft your unique engagement ring. Once completed and the final payment is made, we will deliver it discretely directly to your home, work or nominated address.
We do offer a GST free purchase if you are travelling overseas. Talk to your concierge about this option.
---
Return Process
To start the return process, talk to your concierge.
Within 2-5 business days, we will email you shipping instructions.
After returning the ring, we will start the refund process. This can take up to 14 days and will be refunded to the original payment method.
Note: All returned items must be in an undamaged and unchanged state. We can't accept any jewellery that shows signs of wear or alteration.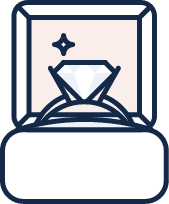 Ready to take the leap?
If you have any questions or are ready to start the process book a time or send us an email
Unsure? Read our guide