About Us
About Four Words
Bespoke engagement rings without the compromises
If you're reading this you're most likely on the hunt for an engagement ring, either for yourself or for your partner — congratulations, this is an exciting time! We were there not long ago.
You've probably saved up some money, secretly done some research or even have some ideas on what you want the design to look like.
However, once you start interacting with the mined diamond industry, from the mass production retail shops to the fancy high-end boutiques, you will quickly realise that you will have to make a lot of compromises. Even though you're spending thousands of dollars already, it will feel like you will need to double your budget to be taken seriously.
Not only will you need to compromise on size, quality and design it will feel like you will have to compromise on your ethics — how do you make sure you're not supporting blood diamonds, what about making a more sustainable choice?
I know, I felt the exact same way when we were looking for an engagement ring. But we found a way not to compromise on anything while feeling good about buying more sustainably with no ethical questions or concerns.
Real diamonds - never mined
We are not your parents jewellery brand
Unlike any other engagement ring brand in New Zealand we only exclusively work with lab grown diamonds and gemstones.
We will never sell or use mined diamonds in our rings. Why? Because lab grown diamonds are exactly the same as mined diamonds (down to the atom!) and we strongly believe that is absolutely no reason to choose mined diamonds over lab grown diamonds.
Lab grown diamonds are a superior product and better than mined diamonds in every single way.
💛 Lab grown diamonds are a superior product and better than mined diamonds in every single way.
🌱 They are much more sustainable
💎 They are 35 - 40% bigger for the same price
Why compromise or settle for anything but the best?
Always custom, never customary
We only create custom designs for our clients. Whether you know exactly what you want or need some help on where to start, our design team will guide you through the whole process to create something we know you'll love.
Our collections only serve as inspiration. We don't hold any inventory for sale so we'll never try to push you into anything that isn't perfectly suited for you and your design — personalised every step of the way.
The first four words
When I first decided that I was going to get engaged I knew it was going to be expensive. I usually hate spending large amounts of money on physical things, but this was ok. This is something she would wear for the rest of her life — worth spending money on.
I started looking around, from the large chains to the independent boutiques (you know the ones with the fancy showrooms) and the experience was miserable. I either felt cheap or like I was getting ripped off. I especially hated the feeling that I had even though I was spending thousands of dollars, I still had to make so many compromises.
Then I found a thread on Reddit about lab-grown diamonds. Exactly the same, but 30-40% bigger and way more ethical? This was a no brainer for me.
After several weeks of searching for suppliers, I finally found someone to source a lab-grown diamond and make my engagement ring for me — it turned out amazingly and my wife loved it!
Over the next few years, I helped many of my friends create their own engagement rings with lab-grown diamonds and they all loved it! Eventually, I realised that there was an opportunity to turn this into a real business.
So I started Four Words, not because I have some passion for shiny rocks in the ground or my family has a history in diamonds — I'm an outsider in this industry. I started Four Words because I wanted more people to learn about lab-grown diamonds, how it's the much better choice and help them create well-designed rings that they can feel good about.

— Vinny Chauhan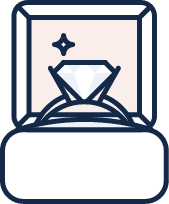 Ready to take the leap?
If you have any questions or are ready to start the process book a time or send us an email
Unsure? Read our guide