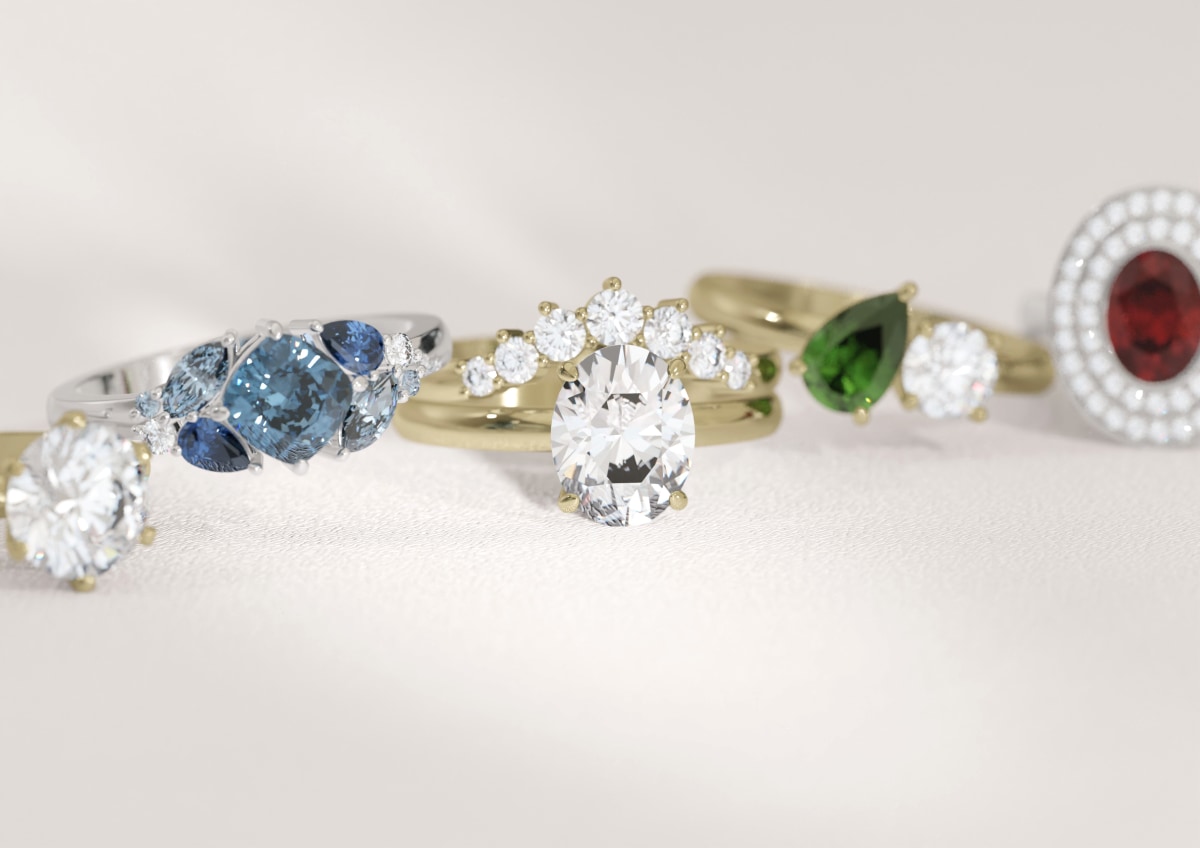 NZ Engagement Rings Trends 2022
July 18, 2022 • 7 min read • #2022 trends
---
As a New Zealand jewellery company, we're seeing a wide variety of different engagement rings being designed. No matter what you decide – making your own ring is purely for you to decide – and we love helping couples create their perfect ring. Here is what our designers are seeing in 2022:
1. Large Oval Stones with Contour Wedding Bands
Oval-shaped stones are a popular choice among soon-to-be brides, and one way to make them stand out is to have your ring-shaped by a contour wedding band. The pair casts a stunning image. The oval stone helps to elongate the appearance of your finger and the moulded band mirrors the edge of the stone. It is a design element that is both playful and forward-thinking. Oval stones also represent an unexpected option that still harkens to the classic shape of a round diamond. The two features together breathe a modern sensibility into a timeless jewellery piece.
Some engagement ring designs have even used the contour wedding band as a backdrop for incorporating more diamonds or additional colours to the ring. Consider adding the aforementioned melee diamonds as an accent along the contour band, or even choosing another metal for the band to create a mixed metal engagement ring. This is a great choice for the style-conscious bride who enjoys having fun with fashion.
2. Classic Solitaire with Round Center Stone
Who says trends have to stem from a new concept? The rise in sales of classic stone shapes like the solitaire round center diamond speaks to the reality that inspiration for your engagement ring can come from the timeless design.
While solitaire rings can work with any stone shape, a round diamond remains the most popular choice. When set against gold or white gold bands, the look becomes a winning engagement ring fit for anyone. They also remain a beautiful gesture. The sparse and straightforward appeal of solitaire rings has come to symbolise the love held within marriage, serving as a representation of love that is pure and endless.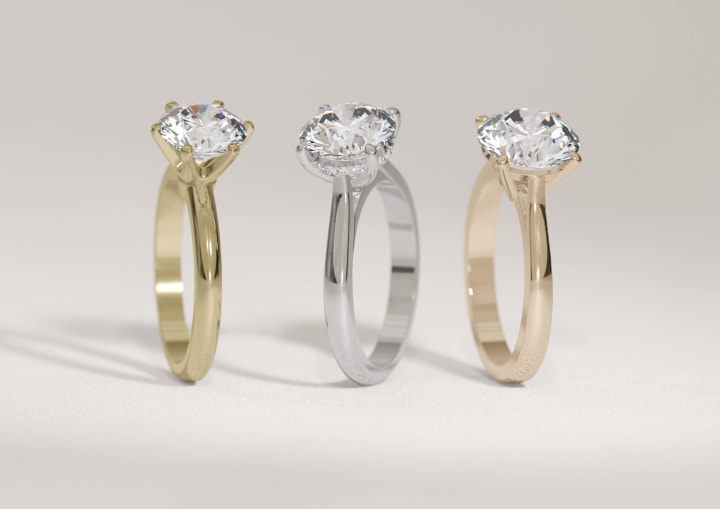 Solitaire refers to the single gemstone within a setting. A solitaire engagement ring has no other adornments aside from the center stone and band. As the most straightforward of ring options, the minimal beauty of these styles allows the brilliance and cut of the stone to take center stage.
Its simple nature also casts an elegance to the ring and guarantees it will work with any and every outfit. Feel free to add a daring element to your ring with your wedding band design. If your style veers more towards the enduring looks of Hollywood bygones or the sharp simplicity of iconic designers, a round diamond solitaire engagement ring may be the one for you.
3. Multi-Stone Engagement Rings
Another style on the rise, particularly among celebrity couples, has been the multi-stone engagement ring. Popularised by Ariana Grande, Emily Ratajkowski and Megan Fox in early 2022.
This one is a great option for couples that appreciate the symbolism of an engagement ring but want a bit more room to play around with the design. Whether it is combining two different stones within the center setting, or covering an eternity band with a mix of your favourite gems, the multi-stone engagement ring allows for the brightest blend of blinged-out worlds.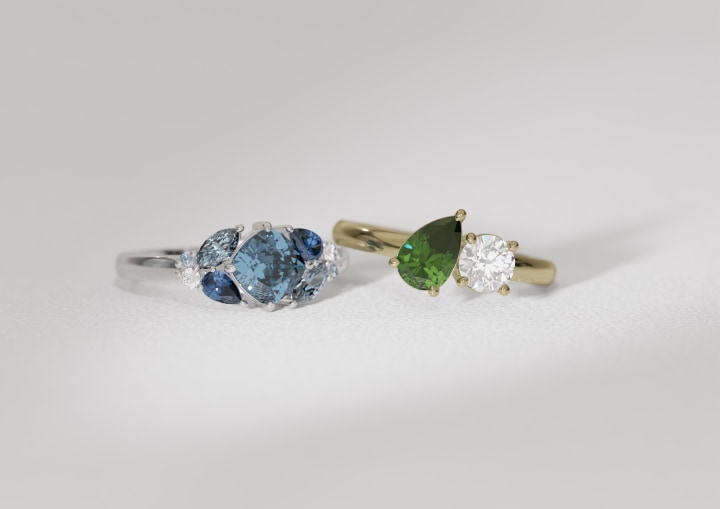 The multi-stone ring also comes with its own symbolism. Many are familiar with the use of three centre stones on a ring, and while it is a beautiful design feature, it is also used to share the story of a couple.
Each stone is a symbol of the couple's past, present, and future, with the center stone (present) typically being the largest. Aside from that, a multi-stone ring is a blank canvas to incorporate personal details from your shared love story. Maybe that is a two-stone ring that includes one diamond and one birthstone, or an engagement ring that includes a stone that has been passed down through generations. With this kind of ring, the possibilities are endless.
4. Antique Inspired Styles
Speaking of heirlooms, antique-inspired jewellery is having a moment. Couples are looking to the past to help guide their present design decisions. And for good reason. Vintage rings come with their own history and story, and have withstood the test of time—a revered symbol that speaks to a couple's desires for their own marriage.
They also tend to have intricate details like the swirling gold pattern of Edwardian filigree or the whiplash lines of Art Nouveau.
To replicate these styles in your custom engagement ring, consider selecting one element that you appreciate from a vintage ring, and use that as the focus of your design. This will allow the element to shine through without giving your ring a dated appearance. In all, an antique-inspired engagement ring will give you a unique taste of the past that embraces and mirrors all of the special details about your own love story.
5. Melee Infused Diamond Engagement Rings
A glittering arrangement of melee diamonds makes for a stunning engagement ring. The trend has steadily grown in popularity as a way to accent large center stones or cover the surface of an eternity band.
Melee describes the tiny, delicate diamond stones used to accentuate the shape and setting of a diamond jewellery piece. While they are extremely time-consuming to incorporate (their size requires a meticulous eye to set by hand), melee diamonds are worth the effort.
They add visual interest and a unique element to a simple engagement ring. Melee diamonds are also a cost-effective addition for buyers, as the size of these stones makes for a wow factor even at a lesser carat weight.
Melee diamonds are typically cut in a similar fashion to large stones, with 57-58 facets that mimic their sparkling effect. They can also be seen in what is called a Single Cut, achieved through a simple method of creating 17-18 facets.
6. Sustainably Sourced Engagement Ring Gemstones
One consistent trend in engagement rings has been sustainable alternatives to mined diamonds. This has been occurring in many ways, from finding recycled materials to utilise or incorporating family heirlooms into new designs. Or instead utilising lab grown diamonds, gemstones and or moissanites.
Recent years have seen the jewellery industry contend with its practices in terms of ethical sourcing of materials, transparency in the supply chain, as well as treatment of workers. Consumers are demanding more. And rightly so.
It is no secret that mined diamonds take a heavy toll on the environment as well as the workers employed to excavate them.
Lab grown stones are produced in a man-made environment in a matter of weeks. The result is a brilliant stone with the same atomic make-up as their mined counterparts at a fraction of the cost. They also are available in a variety of colours.
As more and more couples look to lab grown stones as a viable choice for their engagement ring, it increases their presence on the market and provides a path for more options.
Follow or Set?
Are you thinking about saying those four words? What do you think your partner will like? Something following the trend or something that will set a new one? Whatever you choose, be sure to read our guide on how to design a bespoke engagement ring — and if you should keep it a surprise or not!
And if you are ready to start your design journey, why not reach out to us to get started on your engagement ring. We have also written a guide on how much you spend on an engagement ring too.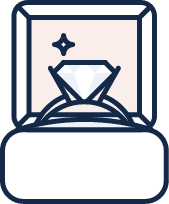 Ready to take the leap?
If you have any questions or are ready to start the process book a time or send us an email
Unsure? Read our guide