Moissanite Engagement Rings: The Complete Care Guide
April 5, 2022 • 7 min read • #care guide
---
CARING FOR YOUR RING
If you have ever witnessed the incredible brilliance of moissanite, then you know its appeal is undeniable. There's no wonder the stone remains a steadfast contender among engagement ring options. And while its durability factors into its popularity, moissanite engagement rings still require a measure of care. If cleaning your jewellery has not been a thought before, no worries! It's typically not a top priority for many of us, but now is a great time to start considering how to care for our most treasured pieces.
The most cherished jewellery tends to be the pieces we reach for often. Engagement rings are a prime example: they are worn every day on many different occasions and rub against a variety of surfaces, from the fabric of your clothes to your very skin. The importance of maintaining its appearance cannot be overstated. Caring for moissanite jewellery regularly is the best way to ensure it keeps the lustre and sparkle you first fell in love with. The good news is that this process does not have to be exhaustive or time-consuming!
Four Words recognises that we each live different lifestyles. So instead of listing one perfect cleaning solution for moissanite rings, we have included a range of options that allow you to choose what may work best for you. From simple at-home solutions to an easy all-in-one device, we hope this guide helps to demystify the cleaning process.
HOW TO CLEAN A MOISSANITE ENGAGEMENT RING
One of the reasons moissanite makes for a stand out engagement ring is its resilience. While other stones like turquoise, pearl, and opal are porous and sensitive to abrasion, moissanite is able to withstand significantly more. Its durability is only second to diamonds on the Moh's Scale of Hardness, a unit of measurement that tests a mineral's resistance to scratching. Even with this in mind, regular cleaning targets the dust, sweat, and bacteria build up that is sure to come with everyday wear. Some cleaning options to consider:
Soap and Water
Nothing beats the clean and ease of what we already have on hand. Using a solution of mild soap and warm water is a safe and effective way to restore your moissanite engagement ring to its original condition. Simply fill a small bowl with natural liquid soap and lukewarm water (not too hot!) Allow your ring to sit in the mixture for a few minutes, then gently dry with a soft towel. Give it one final wipe with a polishing cloth before returning it to your finger.
Jewellery Cleaning Solution
There are several pre-made solutions available on the market that can be used for your moissanite engagement ring. This straightforward method of cleaning means that you can place your ring directly in the solution, leave it to soak for a few minutes, and take it out to wipe down with a clean cloth. Many solutions come with a handy basket and small brush directly in the container to make your moissanite cleaning process a breeze. Double-check your solution of choice to be sure that it will not cause damage to the moissanite or the specific metal of your ring.
Ultrasonic Jewellery Cleaner
The vast world of technology has allowed us to bring a top-notch cleaning solution inside our homes. Ultrasonic cleaners are used by jewellers, dentists, and eye doctors as an effective way to clean fragile pieces. The tool uses high-frequency sound waves and gentle vibrations to attract any dust or debris that may be on your jewellery, which is a fast and efficient way to ensure your moissanite engagement ring shines bright. Many of these machines can be purchased online or in your favourite home goods store.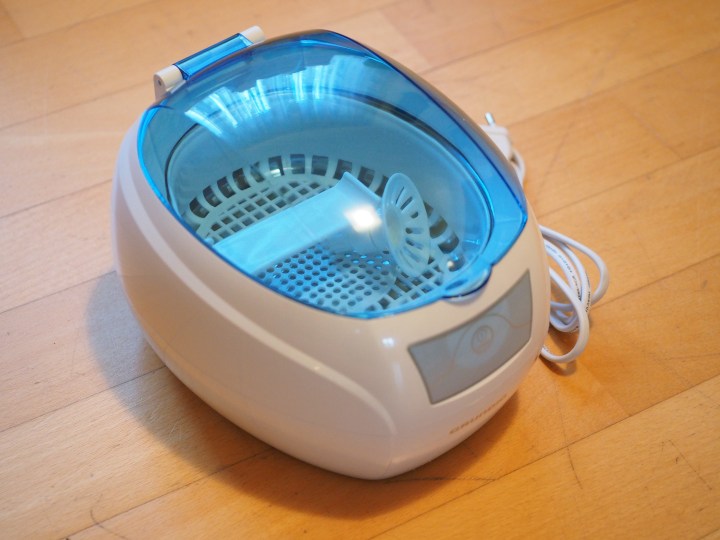 THE BEST AT-HOME TOOLS FOR CLEANING
For the most straightforward cleaning option, look to clean your moissanite ring regularly at home. With just a few resources (many of which you probably already own) your ring will be shining bright for years to come.
The best tool to invest in is a microfiber cloth. As a polishing material, microfiber cloths are perfect to use on the metal base of your moissanite jewellery. It will remove any tarnishing or dullness that may have built up on your engagement ring, and is a safe option for the moissanite. Use the cloth wet when cleaning your ring with soap and water, and then try it dry as a quick way to remove dust or any other debris in between regular cleanings.
Another resource to keep on hand is mild soap. Dish soap is one option as it is stringent enough to clean hard to reach spots, but gentle enough not to cause damage to your moissanite stone. Organic or all-natural soap is another route worth looking into if you are looking for sustainable products to bring into your home.
A small bowl will also be useful in your moissanite cleaning routine. Whether you use a cereal bowl or buy one from a specialty store, this tool is a multi-use piece. It can be used to store smaller pieces of jewellery in addition to cleaning your moissanite engagement ring. Should you choose to purchase one, have fun with the decisions and find a design from a local ceramicist or your favourite retailer that matches your personal style.
Finally, consider buying a toothbrush or small jewellery brush. This tool will get into all of the small crevices that surround the base of your moissanite ring. After soaking your ring in a combination of soap and warm water, or a cleaning solution, lightly rub the brush against the moissanite and metal while the ring is still wet. This gentle motion loosens any debris that has lodged over time. Be sure to use a soft bristle brush for this so that it does not scratch against the moissanite.
TIPS TO REMEMBER
While regular care for your moissanite engagement ring is ideal, that in no way means it needs to be cleaned each day. A biweekly or monthly schedule will be plenty to keep it in top shape. Additional notes to keep in mind:
To get in the habit of ring cleaning, keep your cleaning tools in a place that you frequent. Having supplies on hand under the bathroom sink or in the kitchen will be a visual reminder to care for your jewellery. It also makes it easier to do when everything you need is already prepared.

Because engagement rings are worn every day, they are prone to product build-up from our skincare routine. Lotions, serums, and gels can cast a dull film over the ring's metal structure and moissanite stone. Keep this in mind as you make your way through your daily routine. It may be worth considering making your ring the last thing you put on in the morning and the first thing you take off upon returning home in the evening.

Just as important as cleaning your moissanite ring is how you store it. Be careful not to place your ring in close proximity to other jewellery. Although moissanite is incredibly durable, it is not 100% scratch resistant. Store it alone in a separate ring box with a soft lining.

Jewellery cleaning solutions are a popular option for cleaning rings because they are easy to use. Simply place your ring in the solution, wait a few minutes, then wipe clean with a soft cloth. While this is certainly an option to explore, not all solutions are created equal. Some are made specifically for different types of stones and metals, so be sure to check for a cleaning solution that accommodates moissanite rings in particular.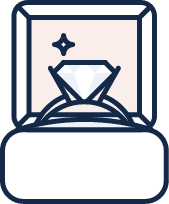 Ready to take the leap?
If you have any questions or are ready to start the process book a time or send us an email
Unsure? Read our guide