How to Design a Custom Wedding Band to Suit Your Bespoke Engagement Ring
December 8, 2021 • 6 min read • #custom wedding band
---
Planning a wedding is an exciting time, but it can quickly turn stressful if you aren't prepared.
While it is important to find the perfect bespoke engagement ring for your partner, what about the wedding band? A custom made wedding band ring will be just as unique and special as your engagement ring.
The process of designing a custom wedding band can seem daunting at first, but it doesn't have to be! We've got all the tips you need to make it easy — from choosing materials like gold or platinum, to deciding on design details such as shape or size.
Here are some helpful tips for designing a beautiful custom wedding band that suits your bespoke engagement ring perfectly.
---
1. Pick the Right Metal
Choosing a metal for your custom wedding band can make or break the whole design and you must get it right! Just like your engagement ring, you'll want to choose something that will last. Softer metals like silver and gold are great options because they're less prone to wear over time.
Engraving these metals can also add that personal touch.
Gold is an obvious choice because it's the most common metal in engagement rings! It allows you to add beautiful detailing and comes in a range of colours such as white, yellow and rose gold.
If you're looking for something different, consider platinum or palladium. Both metals look stunning and are incredibly strong, so you can feel confident that your wedding rings will last a lifetime.
Check out this article here for more information on choosing the ring metal.
---
2. Create the Ring's Shape
Supposing you've chosen the metal, it's time to think about the shape. Wedding bands for women come in all shapes and sizes, but which would work best with your engagement ring?
Oval-Shaped Ring
Oval-shaped bands sit flat against the finger and create balance on either side of an engagement ring. They also look great on their own if you don't want to wear an engagement ring every day!
Round Shaped Ring
Round bands are sleek and stylish, ideal if your engagement ring is oval or square. They create a seamless look that's classic and timeless.
Flat Band Ring
This style is flat across the top with gentle curves on the sides, which makes it a great choice if you're looking for something different from the traditional wedding band.
Three-Stone Shaped Ring
This is a popular style that showcases three diamonds set into the band, which are customisable to suit any engagement ring. Look out for one shaped like an inverted triangle on top of your engagement ring, so the two bands line up perfectly.
Asymmetric Shaped ring
If you want to create a dramatic look, an asymmetrical ring can be a perfect choice. The unique shape creates a statement and works especially well with bold engagement rings.
---
3. Choose a Ring Size
When designing your custom wedding band, it's important to get its size right! You don't want it to sit so loosely that it's constantly slipping off, or so tight that it's hard to get on and off.
Your exact ring size will depend on how you plan to wear your wedding band - are you planning to have it next to your engagement ring every day? Or do you want to wear it on its own?
Either way, it's vital to get your size right.
---
4. Choose the Perfect Engraving
You can personalise your wedding band with engraving!
A simple line of text such as 'Forever,' 'Together' or even a special date can look beautiful and add that special touch. You could also choose a word that means something only to you and your fiancee, such as your initials or a short message.
Or if you prefer something more subtle than words, why not consider engraving a design with symbols that mean something to just the two of you? It could be anything from stars and hearts to musical notes and infinity symbols.
Engraving can be as intricate as you like, as long as it doesn't make the band look too busy.
Influence From Your Engagement Ring
It's a good idea to take inspiration from your engagement ring when designing a custom wedding band! That way, the two rings will tie together perfectly and complement each other beautifully.
For example, if your engagement ring has an understated tone, such as rose gold, your wedding band might be a silver color. Or if your engagement ring is unique and statement-making, it might be fun to create something similarly over the top for your wedding band!
Just remember that you don't want them to look too alike - intentionally mismatching can add interest and character, and is the height of fashion right now!
Featuring Your Engagement Ring in the Design
If you're looking to save money on buying another diamond or gemstone for your wedding band, why not consider having it designed with your engagement ring already in mind?
For example, if you're using moissanites in your engagement ring, you may want to consider moissanites in the wedding band too. If you like the contrast between silver and rose gold engagement rings, why not choose a rose gold and silver-toned wedding band?
You could also consider having your engagement ring cut into small pieces and incorporated into your wedding band - it's a beautiful way to use some of the stones from your engagement ring and create something truly unique.
It All Comes Down to Your Budget
Once you've chosen your wedding band, all that's left is deciding on a price!
You don't want it to be too expensive or you won't get enough bang for your buck, but you don't want it to be too cheap either otherwise you might regret it.
If you don't have a budget in mind, why not speak to a jeweller and ask for their advice on what they think is best? They might also have some great ideas of how you can keep within your price range but still create something truly beautiful.
It's also worth bearing in mind that it can be cheaper to have two separate rings created instead of one. This is especially lucrative if you're looking for something simple and cost-effective, or are on a budget.
Design the Perfect Custom Wedding Band
There are so many beautiful ways to create a custom wedding band for your engagement ring to complement its stunning design! As long as you're creative and have a budget in mind, the possibilities are endless.
And when you're ready to get started, our specialists can't wait to help. Contact us to start the process today!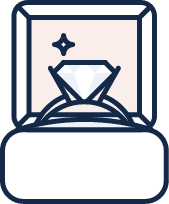 Ready to take the leap?
If you have any questions or are ready to start the process book a time or send us an email
Unsure? Read our guide