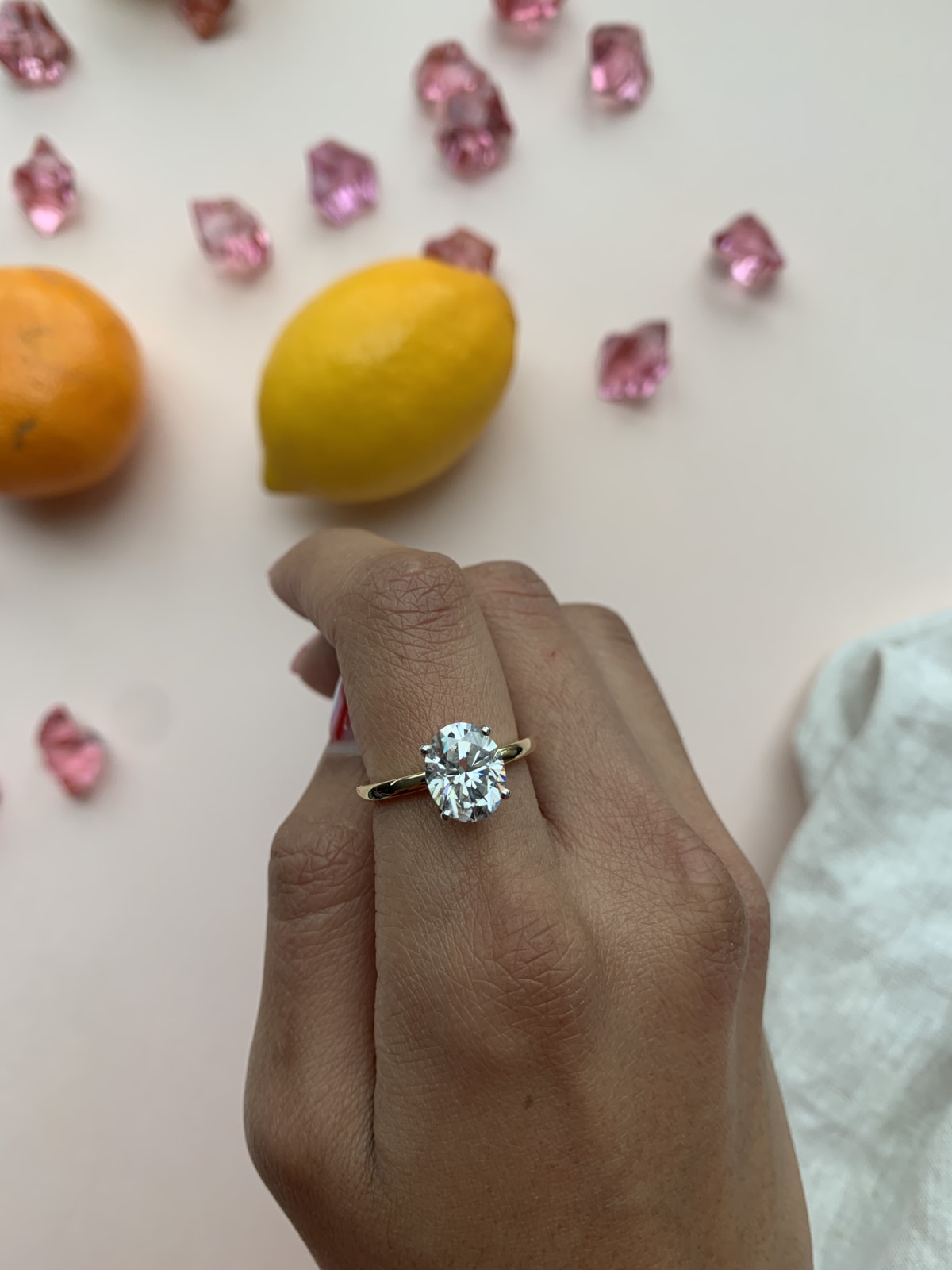 How to Approach Your Custom Engagement Ring Design
September 10, 2021 • 10 min read • #engagement ring design
---
Choosing the right engagement ring for your partner may sometimes call for a custom engagement ring design. Here are some ways you can approach the process.
Getting a custom engagement ring design isn't reserved for the rich and famous anymore. Working with a private jeweller or bespoke design brand (like us) can actually give you more value than getting something off the shelf — as we
But before you begin down the custom design path it's helpful to think about a few things which will make the process a lot clearer and less overwhelming.
---
Your Engagement Ring Design Should Be Special
In most relationships, engagement rings are treated with a certain kind of reverence. For many couples, it is an ultimate symbol of their commitment, faith, and respect for one another. That's why so many people spend so much time dreaming of their future engagement ring.
They're not thinking about the ring per se, as much as they are thinking about what it represents. All the ideas they have about what a relationship should be poured into the ring they have always imagined. Partners should strive to capture these emotions in what their partner is imagining when they propose.
That's why it's so important for your engagement ring design to be special. You're not going to get another chance to get it right. And when you reveal the ring, you want it to be everything your partner has ever wanted. But at the same time, if it's meant to be, you won't have any problem getting it right.
It Should Resonate With Both Partners
Getting a custom design for your engagement ring shouldn't just be special for one partner. It should be something that both partners enjoy. It should be something both partners think is special. Make sure to put some of your ideas into the ring as well as ideas from your partner.
A lot of people think that they need to get the ring design perfect on the first attempt. This couldn't be further from the truth. In fact, don't expect to be able to come up with the perfect ring design right on the spot. It takes time, and you may need to glean some insight from your partner about what they want from a ring.
The best option is to work with a jewellery designer to help turn your ideas into sketch concepts and give you guidance on what will look good and what is possible and what's not possible within your budget.
After all that effort though, you will have something that resonates with both of you and will stand as a symbol of your relationship — and that makes it worth it.
You Can Use Premade Designs for Inspiration
You don't need to design a custom ring from scratch. Most people may not be able to fully understand what's possible with their ring. It helps to look at pre-made designs beforehand for inspiration. They can help people imagine what a custom ring could look like and help them describe what they want more clearly.
With so many options to choose from, it's much easier to find existing designs you like and use that as a base to work with a designer and create something beautiful and personalised.
You may even find a pre-made design that resonates with you — and that's fine! What's important is that your engagement ring is meaningful, not that it's entirely custom-made. Partners want to see that you have thought about the process and put some effort into creating something special for them.
---
1. Choose a Stone They Will Be Proud to Wear
After understanding what you want to achieve out of a custom engagement ring, it's time to decide what stone you want. The center stone is almost always the focal point of the design and the size and type is the biggest determinant of cost.
Most people go with diamonds — the tried and true glimmering stone in any engagement ring. And they are classic for a reason — they have a depth and sparkle that can't be matched by any other stone. Because they are extremely tough (the hardest material on earth),  they won't ever chip, crack or lose their sparkle. Like they say 'A diamond is forever.'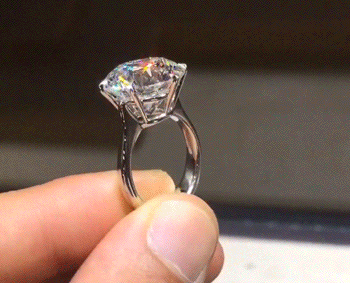 However diamonds have a bloodied past and a murky supply chain. More and more couples are opting for lab-grown diamonds which are identical to mined diamonds (down to the atom) but have an ethical supply chain, are much more sustainable and are better value. At Four Words we only work with lab-grown diamonds because we believe they are better than mined diamonds in every single way.
But just because diamonds are the most popular choice doesn't mean you should shy away from other gemstones like sapphires, emeralds, rubies, aquamarines, moissanite as options for engagement rings. These stones are great if you have a special meaning attached to them (e.g. birthstones) or you want some colour in your design. Often, gemstones can offer a more affordable price range as well if you are on a tighter budget. Here at Four Words we routinely work with customers who choose to go with a lab-grown gemstone as their center stone — contact a concierge to find out more.
How To Pick The Right Quality Stone
Diamonds (and gemstones) vary a lot in quality and subsequently, price. How do you pick a high-quality stone without paying too much?
Fortunately, diamonds have a standardised grading system called the '4 Cs' where mined and lab-grown diamonds are independently graded according to their Cut, Carat, Colour and Clarity. Unfortunately, this just introduces a new set of decisions to be made and can be really confusing — how do you pick the right combination of Cs?
Here at Four Words, our gemologists have come up with the Four Words Standard which makes the whole thing really simple. Our philosophy is to get the best-looking diamond to the naked eye because why pay for anything more and why settle for anything less?
Whatever stone you choose to go for your custom design, make sure that it is high quality and something that you and your partner feel good about.
---
2. Choose A Metal That Will Suit
After choosing the stone, the metal your ring will be set in is the next major decision to make. But luckily this is reasonably straightforward.
For fine jewellery like engagement rings you have four major options (there are others, but these will make up 99% of cases):
Yellow Gold
Rose Gold
White Gold or Platinum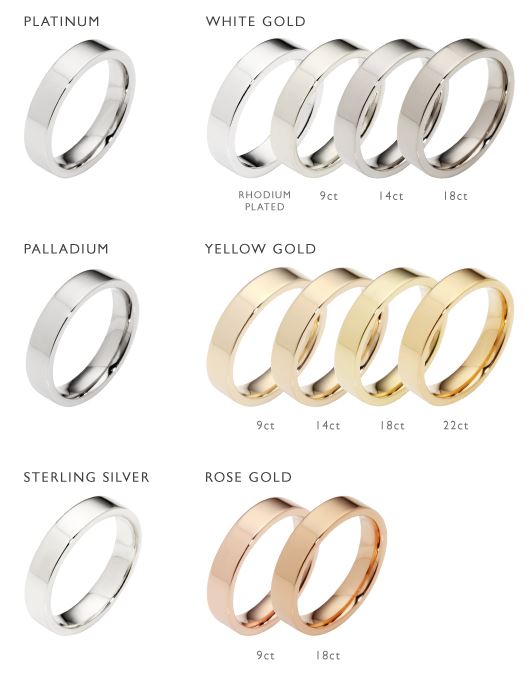 Which you decide to go for is really up to what colour you prefer. If you are looking for a custom design for your partner then one clue might be the colour of jewellery they already wear, if mainly yellow then opt for yellow and if mainly silver/white then opt for white gold or platinum. If they wear both or you don't have an idea of what they like then a general rule of thumb is that warmer skin tones suit yellow gold and cooler skin tones suit white — here is how to find out about skin tones.
Karat vs Carat?
Just to add in another layer of confusion, gold comes in different Karats which is different from Carat (diamond weight).
Karat when in reference to gold is the amount of gold used in the metal. 24k gold is 100% pure gold and 18k gold is 18 parts gold and 6 parts alloy (other metals), 14k gold is 14 parts gold and 10 parts alloy and so on.
Pure gold (24k) is too 'soft' to make jewellery out of. It easily warps and changes shape. So to make it stronger, goldsmiths alloy it with other metals (zinc, copper metal). The type of alloy metals used can change the colour. For example, rose gold has a higher amount of copper to give it the rose colour.
Fine jewellery in New Zealand mainly comes in 14k or 18k gold. While 18k gold has a higher percentage of gold than 14k, we recommend choosing 14k gold to make your ring from. This is because it's significantly more durable than 18k gold and has a slightly lower price point. 18k gold is still a great option if you prefer a richer yellow colour, but the trade-off is that it will require a little bit more care and upkeep. We don't recommend going below 14k gold.
---
3. Research Different Ring Styles
When researching rings it may be difficult to even get started, but knowing the general styles can help you narrow down what you like and more importantly, what you don't.
Here is a list of main types of designs to search for (Pinterest is your friend here):
Solitaire: The most common design, featuring just a single main stone. These designs are a great way to show off the main gemstone or diamond.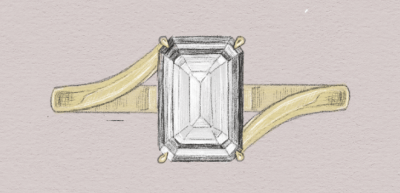 Halo: A single stone with a 'halo' of smaller diamonds surrounding the main stone. Popular because they add a bit more sparkle and give more finger coverage
Three stone: A 3 stone ring (but you knew that), the three stones can either be all the same or different shapes. Symbolises 'past, present and future'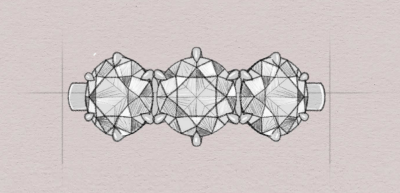 Moi et Toi: Two stones (usually different shapes) next to each other — means 'You and Me' and french and in vogue right now
Vintage: Rings with intricate designs and details, often with coloured gemstones
Multistone or Cluster: Ring with a cluster of diamonds without a center focal diamond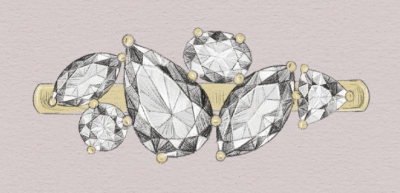 In our experience, if your partner wants a specific style of design that's unique — they'll let you know!
Otherwise for more inspiration on engagement ring styles, just look at the latest jewellery trends. It can inspire you to show off and create something interesting. And most jewellers are constantly coming up with unique ideas for engagement ring design.
---
4. Bring Your Ideas Into Life
Once you've got some idea of what you're looking for you should reach out to a few jewellers you can work with to turn your design vision into reality.
At Four Words, we can help people anywhere on the design journey, whether you have a clear direction of what you want or don't know where to even start. We can help you bring your design ideas to life in a series of sketches and 3D renders which are used to craft your ring.
Our process walks you through each of the steps of engagement ring design from stone selection, metal choice and design styles to ensure that what we create will be something you both will love.
It's completely complimentary to start and you don't have to pay anything until you are ready to create the ring!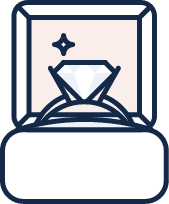 Ready to take the leap?
If you have any questions or are ready to start the process book a time or send us an email
Unsure? Read our guide